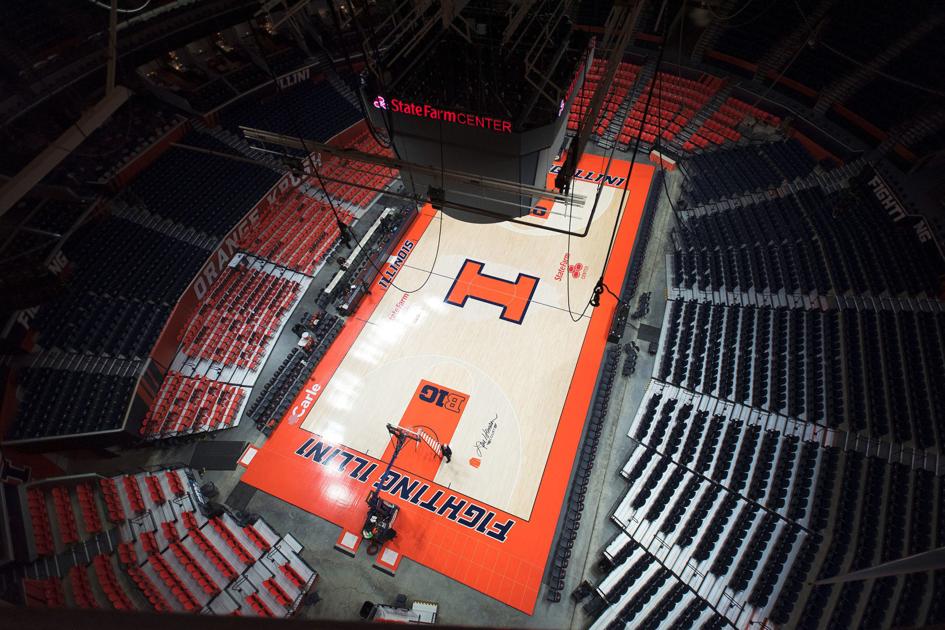 CHAMPAIGN — Scheduling for the 2020-21 college basketball season has certainly taken on some colorful adjectives. CBS Sports' Jon Rothstein has likened it to being "wilder than a goat rodeo."
That's the kinder, gentler, family-friendly version of what other national writers have said has been used by coaches across the country to describe scheduling to them amid the COVID-19 pandemic.
Think a particular word not especially suited for a family newspaper or general public discourse.
"I think it's easy for people to want to talk about all the difficulties," Illinois coach Brad Underwood told The News-Gazette on Thursday, six days before his fourth Illini team is scheduled to start practices. "It's a one-off year. Things are going to be challenging and different. It's no going to be fair, and it's not going to be easy.
"You're probably going to have games canceled or postponed. You try to provide an atmosphere that is the safest and most controlled you can have for your student-athletes, so you don't have potential problems where you don't play games and you have guys out for up to three weeks. That's something that all goes into scheduling right now."
Illinois has had multiple games come off its 2020-21 schedule in the last week. The return game against Arizona at State Farm Center in mid-December was postponed for a to-be-determined date on the 2021-22 schedule.
The Emerald Coast Classic — the Illini's shot a two more high-profile games against Florida and either Oregon or Iowa State in late November — was canceled outright because of challenges related to the ongoing COVID-19 pandemic.
What's actually known about Illinois' 2020-21 schedule is rather thin. The Illini are reportedly hosting their own multi-team event in Champaign from Nov. 25-27 and get three games in a round-robin format.
That MTE means Illinois can hit the NCAA maximum of 27 games this coming season. Where the other 24 come from is also to be determined.
The Big Ten/ACC Challenge is reportedly still happening. The Gavitt Games are reportedly not. And the Big Ten will either play its typical 20-game conference slate or, per some reports, maybe expand to 22.
"You basically are starting from scratch," Underwood said. "Everybody is waiting on conference schedules — for conferences to decide. … I think the positive outlook on this is we're going to have an NCAA tournament. We're going to be playing.
"I've taken the approach I don't care who, what, when, where. I'm just happy college basketball and the NCAA tournament — being one of the greatest sporting events ever — that we're back playing. I'm happy for that for our players. If that meant we had to play a conference team eight times to constitute a season, we were in."
Losing the Arizona game for this season and the Emerald Coast Classic came down to health and safety concerns. The former also took into consideration the financial implications of the coronavirus pandemic on athletic department budgets.
"As much as you want to play Arizona in your home building, we're talking about a health crisis," Underwood said. "We're also talking about a financial crisis. Sometimes flying across the country for a single game isn't the smartest thing to do. … As disappointed as we are, we'll play them next season, and you know you're going to get a great opponent at home. It's just one of those situations where you had to use some common sense, to be honest."
Having four teams from four states representing four conferences made keeping the Emerald Coast Classic on the schedule for late November more of a challenge. The combination of extensive travel — particularly for Oregon — and varied protocols from conference to conference ultimately axed the MTE in Niceville, Fla., according to Underwood.
"It's all safety," he said. "You're talking about making sure you're putting your athletes in the best environment they can be in. When you get outside your facility and get an opponent that may not test like you or does something different, we all had different rules and different standards."
Illinois will conduct its first official practice for the 2020-21 season next Wednesday. Odds are currently against Underwood and Co. knowing what the schedule might look like when that first practice happens.
Underwood was, in fact, rather succinct when discussing when the 2020-21 schedule might be finalized.
"No clue," he said.
That the Big Ten is represented by 14 schools in 11 different states complicates the issue. Semester schedules don't line up neatly. Scheduling officials is also a factor. So is determining what essential gameday crews at each venue might look like. Not to mention what the plan will be for the mandated three-day off period around Christmas when it comes to players possibly returning home to their families.
"You have a bevy of issues that most people don't think about, but we have to deal with," Underwood said. "I would expect when games start Nov. 25, it will be a very active month of December. We'll try and take advantage of the January 'soft bubble' as I call it — as close as we can get to a bubble — when we don't have students on campus. We'll see what February looks like as we go forward."