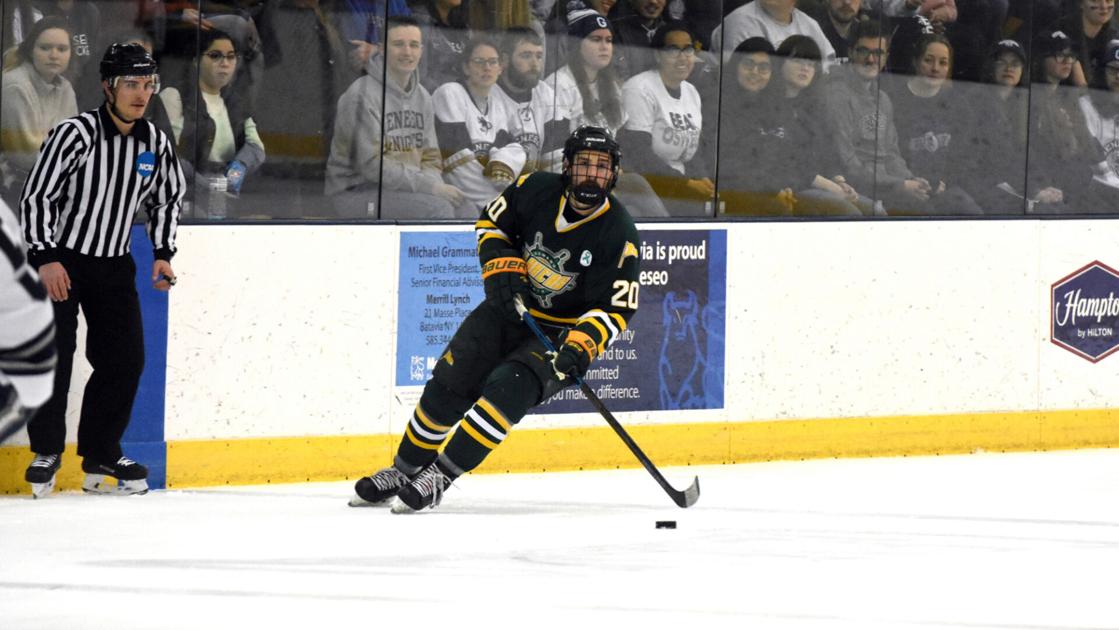 OSWEGO — The sounds of slapping pucks echoing through Marano Campus Center Arena, or balls bouncing and nets swishing at Laker Hall, are normally in full swing at this point nearing the start of the most anticipated sports season of the year for Oswego State University.
But rather than beginning to mold another potential national contender, coaches Ed Gosek and Jason Leone have spent the past few weeks helping their players navigate through the fallout of a lost year.
The Oswego State men's ice hockey and basketball seasons were among those called off due to COVID-19 concerns when the SUNYAC announced the cancelation of winter sports on Oct. 19. The conference also canceled the season for women's basketball along with the championships for men's and women's swimming and diving and men's and women's indoor track and field.
"We respect that (decision), but it doesn't lessen the reality and the heartache of losing something that you're passionate about," said Gosek, the Oswego State men's head hockey coach since 2003. "For our players, and not just us, all the athletes and all these teams, it's what we enjoy and what we love to do."
He added: "It's not the way you want your senior year to end, without a chance to compete and represent the school, the camaraderie of your teammates at practices and games. It's just a hard time, but it's a hard time for a lot of people in this country, and we certainly get that."
The Oswego men's ice hockey and basketball teams were each anticipating a veteran squad returning with a strong chance to maintain their recent success on a national scale. The Lakers men's hockey team had reached the NCAA Division III Tournament in eight of the last 11 seasons, including winning the national championship in 2007.
The men's basketball team has reached the NCAA Division III Sweet 16 twice in the past five years under Leone — who was hired as head coach in September 2011 — the farthest the program has ever advanced in the postseason.
Each unit had reached the conference championship tournament in their respective sport for a streak of at least 10 years.
"The word I keep using is composure, let's sit back and evaluate the negative news we got and understand there are some things coming from it that could potentially be positive," Leone said.
"This is much larger than running a basketball program," he added. "We are a very small part of this campus with our basketball team, and within the community and the world for that matter. There are things going on bigger than basketball right now and we have to respect that, look at this as a bump in the road that many people are going to undertake."
Each team would be approaching the start of regular-season games in a traditional season and would have been months into practice.
The hockey-crazed community that is facing a winter without its beloved Lakers to cheer for has already felt the absence of Oswego players. Gosek said that the team would normally have had around 20 community service initiatives completed by this time in past years.
"All of that is on hold," Gosek said. "You try to pick up the pieces here and move forward the best you can. We feel it's one of the elite programs and we're very fortunate that Oswego is a hockey town and we have a great following among the students and community, season-ticket holders, so hopefully things will come back and people will remain as passionate as they were before the pandemic."
Each decorated Lakers coach shared the decision with their respective teams via Zoom and have followed up with individual discussions in the days since.
There are several layered concerns to sort through for both coaches and players in the weeks and months ahead.
The coaches will need to determine who intends to return, specifically seniors in the Class of 2021 that will maintain eligibility if they choose to return for an additional year of college, and try to balance the roster with incoming and future recruiting classes. Gosek and Leone have each expressed to their seniors that they would be gladly welcomed back if they choose to return to school.
They are also tasked with trying to develop their players and overall teams from a distance with all athletic facilities shut down on campus and in-person meetings prohibited. Coaches are hoping for some type of on-campus practices for skill development next semester but have not received any indication that will be the case.
"There's really a process-oriented approach to the development of our players, both academically and basketball-wise, socially at the college, and a lot of that's been interrupted," Leone said. "So, we're going to have to work extra hard to keep guys attentive to detail when we can't see them. We're not on a set schedule right now with our developmental process."
For graduating players and their families, the decision to return for another season is a vastly complicated one. Unlike their peers on scholarship that make up the majority of Division I and Division II rosters, players at Division III need to account for an additional year of funding to return.
Academically, there are several potential avenues that include adding a second major, taking a semester off, or pursuing a graduate degree, many of which could prove a long-term benefit to the student-athlete.
The Oswego State men's ice hockey players — many of whom formerly played for junior club teams and are age 20 or older before arriving on campus — there are also potential pro and club opportunities to consider.
"They're young men," Gosek said. "Are they going to move on with their life or try to play somewhere? We've started the discussions with our seniors and in individual meetings with our guys, now we're just trying to take care of the mental part of things, making sure that they're in the best place that they can be and help them through these hard times."