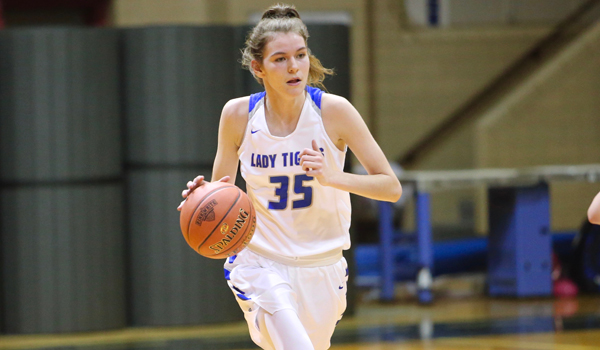 By Brock Sisney (For OzarksSportsZone.com)
CARTHAGE — The Carthage Lady Tigers return four starters, three of them seniors, for head coach Scott Moore's second year at the helm.
With a probable starting lineup featuring four seniors and one sophomore, Moore and the Lady Tigers hope to improve upon their 12-14 overall and 2-7 Central Ozark Conference record from last season.
"This team has a great opportunity to compete with the top four teams in the conference this year," Moore said. "We have a strong senior class and an experienced point guard returning, so we will lean heavily on them to be the go-to players as we battle in the tough Central Ozark Conference.
"We have been working on our shooting this offseason, so I see that being a strength for us. Plus, with everyone in my system for a second year, we should have a better grasp of our offensive and defensive concepts. That confidence and familiarity should allow us to play faster and move freely on both ends of the floor.
"The three main keys to success for us this season will be staying healthy, playing with energy and passion, and believing that our best effort is all that we need each night."
Returning starters are seniors Hailey Fullerton, Lauren Wilson, and Katie Crowe and sophomore point guard Kianna Yates. Others in competition for a starting lineup spot are seniors Brinna Ream and Rylee Anderson, juniors Presley Probert, Sophie Shannon, and Sydnee Dudolski, and sophomores Daniela Marquez, Raven Probert, and Landry Cochran.
CLICK HERE FOR ALL OF THE WINTER SPORTS PREVIEWS
"Hailey, Lauren, and Kianna have stepped up as leaders in summer practices and open gyms by coming every day and working hard," Moore said.
Combination guard forward Fullerton led the Lady Tigers last season with 11.8 points, 5.9 rebounds, and 1.4 blocks per game and she ranked among team leaders by averaging 1.2 assists and 1.5 steals. Additionally, she tied for the team lead by shooting 57 percent from the stripe. Fullerton, who's been starting since her freshman season, earned all-COC second team honors for her play last season.
Yates enjoyed a strong freshman campaign, averaging 10.7 points, 5.0 rebounds, a team-high 2.9 assists, and a team-high 2.6 steals.
The Lady Tigers are slated to open their 2020-21 season Nov. 24 on the road against Hillcrest, a team coming off a 5-20 overall record last season. Carthage hosts its own tournament in early December, closes out the calendar year with the Pink & White, and travels across state lines to Kansas to play in the tournament hosted by Pittsburg.
Other non-conference games of note for the Lady Tigers this season include Dec. 18 at Mt. Vernon and Jan. 5 at Strafford, winners of the last five Class 3 state titles and owners of a 159–6 overall record during that stretch, highlighted by a 123-game winning streak.
At this point, though, nothing seems certain with the presence of the COVID-19 virus hanging a ghastly pall over any human interaction on a mass scale.
"It hasn't really impacted us too much," Moore said of the COVID impact thus far on the Lady Tigers. "Our summer camps that we usually attend were canceled, but we still got in a good number of practices and games in a summer league."