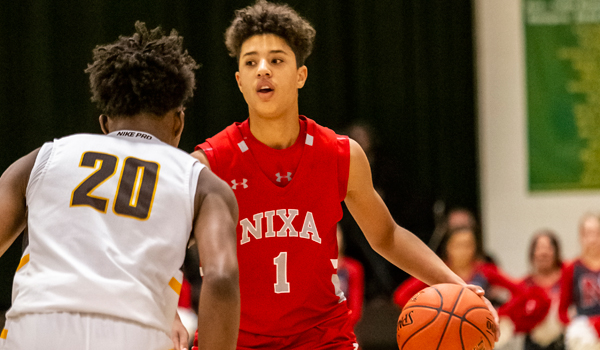 By Jordan Burton (For OzarksSportsZone.com)
Hall of Famer Jay Osborne is entering his 29th season at Nixa and it seems to be a script we've read before with the Eagles graduating great players, returning great players and expectations being sky high. With three full-time starters and two more players that saw spot starts, Nixa will again be one of the top teams in the Ozarks.
Seniors Jason Jones (8.3 points, 4.8 rebounds), Kaleb Wofford (8.8 points) and T.J. Sorgenfrei will lead the way for the Eagles. Jones, a 6-foot-6 forward, and Wofford, a 6-foot-2 guard, are both four-year lettermen. Jones is one of the most versatile players in the league with his length and athleticism, while Wofford and Sorgenfrei are two of the best shooters in Missouri.
Osborne believes his senior trio not only returns a ton of experience, but they'll also set the tone for how the Eagles want to play basketball.
"A trademark of Nixa Basketball, we will again have unselfish players, a team that plays hard, and a team that will respect the game and play the right way," said Osborne. "We have an opportunity to have a great season. We have some really good players, quality depth, and a desire to succeed. We anticipate being one of the better teams in the area."
Also back in the mix for Nixa are standout guards Colin Ruffin and Kael Combs. Ruffin, a 6-foot-3 junior, stuffed the stat sheet last year with 6.8 points, 3.8 rebounds, 2.4 assists and 1.6 steals. Combs, a 6-foot-3 sophomore, added 7.7 points and 1.1 steals. Both are among the top ranked players in their respective classes within the state and both players had incredible summers playing with Missouri Flight and MOKAN Elite respectively. Both Ruffin and Combs can play either guard spot and both players have been receiving an increasing amount of Division One interest.
Along with 6-foot-6 junior Colten Berry, this is arguably the most talented non-senior trio in the Ozarks.
"Our team will have good perimeter shooters, good size and length, and good point guards," said Osborne. "This group will be able to score quickly and often, but could also become a really good defensive team."
Osborne is also excited about a talented crop of newcomers.
Senior D'ante Morgan and juniors Jordyn Turner, Jackson Bell and Keith Piepmeier will add backcourt depth for the Eagles. Junior Jarret Nelson and sophomore Noah Engelman will see reps at forward.
Spokane transfer Jackson Bray will also be a welcomed addition for Osborne. Bray was a three-year letterwinner at Spokane, earning All-SWCL honors last year as a junior. Bray also found success throughout the fall on the gridiron for Nixa.
The Eagles are coming off yet another 20-win season and the program's 27th conference championship, nine of which have come in the COC. Nixa will again have a loaded schedule, all with the idea of ending the program's brief district title drought. After claiming district championships in six of eight seasons from 2010 to 2017, Nixa has dropped three straight championship games by single digits.
This year's roster has plenty of talent to make runs at conference, district and state championships.
"We were COC Champions last season and will look to repeat," said Osborne. "This team will also be focused on winning another Blue and Gold Tournament, and our own NIT. Districts haven't been assigned yet, but we want to be playing our best basketball late in the season for a chance to get into the postseason."
Nixa will open the 2020-2021 season on Nov. 24 at home against Fayetteville.