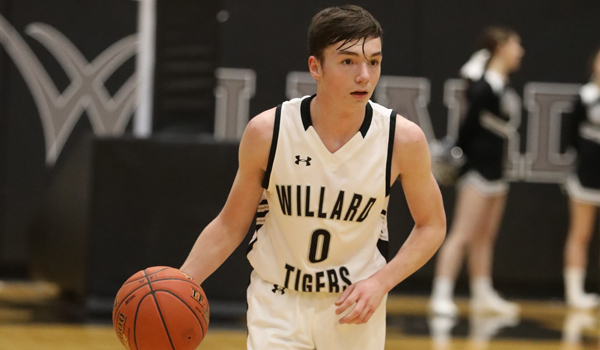 Jeremy Dresslaer's second season at the Willard didn't quite end as expected.
The Tigers — playing without two-time all-state standout Daniel Abreu for much of the season — finished with an 11-16 record, falling to Joplin in the district tournament.
Despite the injury, Dresslaer was pleased with his squad's development as it battled through adversity.
"In the second half of the season, when Abreu missed a month and half of basketball during our conference games, it gave our sophomores the opportunity to expand their roles and game on the biggest stage in the area," Dressler said.
The new brand moves on from one of the most dynamic one-two punches in the area in Abreu (24.4 ppg, 6.9 rpg, 2.3 apg, 1.6 spg) and Maurice Grayer (14.4 ppg, 6.0 rpg, 3.1 apg, 2.2 spg).
Both players will continue their basketball careers at the collegiate level. Abreu, the school's all-time leading scorer, will play at Northwest Missouri State University, while Grayer will attend Fort Scott Community College.
Dresslaer believes last season's trial by fire will turn out to be a huge benefit for Willard, as it looks to replace a huge portion of the offense.
"When playing a majority of sophomores in the COC that will come with ups, downs, and growing pains" Dresslaer said. "That being said, I think that month and half was the most beneficial thing for us moving forward to start a new brand of Willard Basketball."
That brand will be led by a quintet of returning players eager to make their mark this season.
Haden Brown (JR, 6-foot-4, 8.4 ppg, 4.6 rpg, 1.4 apg): "Haden started every game last year as a sophomore and will look to have a much larger role on both ends of the floor," Dresslaer said. "We believe he is primed for a breakout year with his commitment with off-season skill development and the weight room."
Caden Mowell (JR, 5-foot-10, 4.7 ppg, 2.0 apg): "Caden returns as the most experienced player in the program as lettering both his freshmen and sophomore years," Dresslaer said. "He will continue to provide stability and intangibles to our program."
Gavin Davis (JR, 6-foot-4, 5.3 ppg, 4.2 rpg, 1.1 apg): "Gavin played in every game last year as a sophomore and has taken huge strides this off-season," Dresslaer said. "He has the potential to have a major impact on the success of our team on both ends of the floor."
Haden Robers (SR, 6-foot-5, 3.2 ppg, 1.0 rpg): "Hayden is the best shooter in our program and we are hoping that he will have a bounce back year after his junior year was limited with injuries," Dresslaer said.
Ryan Robinson (SR, 5-foot-11): "Ryan is the type of kid that coaches want on their team," Dresslaer said. "He is loyal and dependable, which are two important characteristics that senior leaders must have."
CLICK HERE FOR ALL OF THE WINTER SPORTS PREVIEWS
In addition to its returning core, Dresslaer also expects a trio of newcomers to compete for varsity playing time including junior Brett Hall, freshman Brady Bishop and junior move-in Trey Pulford.
With a host of new faces in brand new roles, Willard will look to quickly establish its identity in the midst of a difficult schedule full of Central Ozarks Conference and potential district opponents.
"We are ready to move forward this year with a fresh start after a year of learning for all," Dresslaer said. "We feel that our players have been fully bought into our off-season development and we have the players, after a year of growth and maturing, to compete against anyone on our schedule."
Dresslaer believes a key factor in that development is his team's overall competitive nature and desire to capitalize on last season's challenges.
"This is the most competitive group that I have had since I have been at Willard," Dresslaer said. "Our guys are starting to really compete in every aspect – weight room, open gym, shooting drills, and so on. That makes it fun for everyone involved. I believe our competitiveness will allow us to come closer to maximizing our potential by February as the season progresses."
Willard opens its season Nov. 21 at Golden City.