Kyle: After we have the draft, the season obviously parallels the NFL season. But throughout that, there's a bunch of transactions, trades between teams, and so on. Then we go to a six-team playoff and crown a champion. This is what the trophy looks like. [Holds the trophy up to the camera.]
Beck: Oh wow, is that a flex? Are you the current champion?
[Laughter]
Marcus: The zero-time champion.
Kyle: Julie, you really just set up an alley-oop there. I am stewarding the trophy right now. I actually think I have the second-worst record in the league.
Roy: The current champion, Jacob, is not on this call.
Kyle: So the winner gets the trophy, and the loser has a specific punishment. They might have to sit inside a Waffle House for 24 hours, or dress up in a tutu and stand on the side of the road holding up a sign saying I suck at Fantasy Football.
Spencer: As part of finishing in last place you have to retire your team name permanently.
Beck: But you also have these other creative punishments? How are those decided?
Kyle: We have an email address, and submissions are voted on by the league.
Beck: Any other standout memories from your trips over the years?
Kyle: Well… I'm just trying to think of an appropriate one.
We have a flag that we fly. We have a portable flagpole. We were flying it on our beach spot, and this group of guys came over and asked, "How much for your flag?" And we were like, "No, no, no. We're not going to sell it to you. It literally would mean nothing to you, and it's our league flag." They challenged Marcus and I to a cornhole competition for it. And thankfully we won.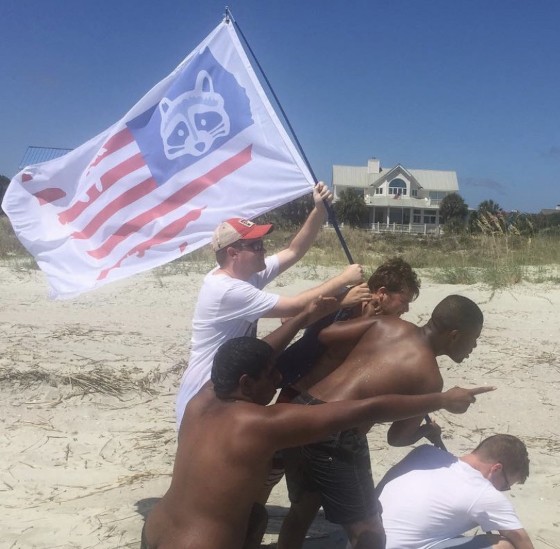 Spencer: The flag's logo kind of looks like the United States flag, because there's stars and stripes on there, and it's red, white, and blue. On that same trip, we were trying to take a picture for Instagram, planting it like the Marines on Iwo Jima. And this lady came by and asked, "Are you guys Army veterans?" And we had to say, "No, we're just a fantasy-football league."
Beck: Did you change any of your procedures for the pandemic season?
Roy: Our owners meeting happened over Zoom. We weren't sure if the NFL season would actually happen, or if it would actually finish. So we picked a cutoff date. If the season lasted at least that long, whoever was in first place that week we would make a champion.
Beck: Matt, you're the statistician—what do you track?
Matt: God, I'm so happy you just asked that question.
[Matt opens and screen-shares an enormous Excel document on the Zoom call.]
Matt: I keep track of everyone's wins and losses. We have some league records; we have how well teams perform in the playoffs. I keep track of how well we play one another in one-on-one situations. Spencer and I have a pretty good rivalry, because the record is pretty close. However, Kyle has not beaten me but one time in the past nine years.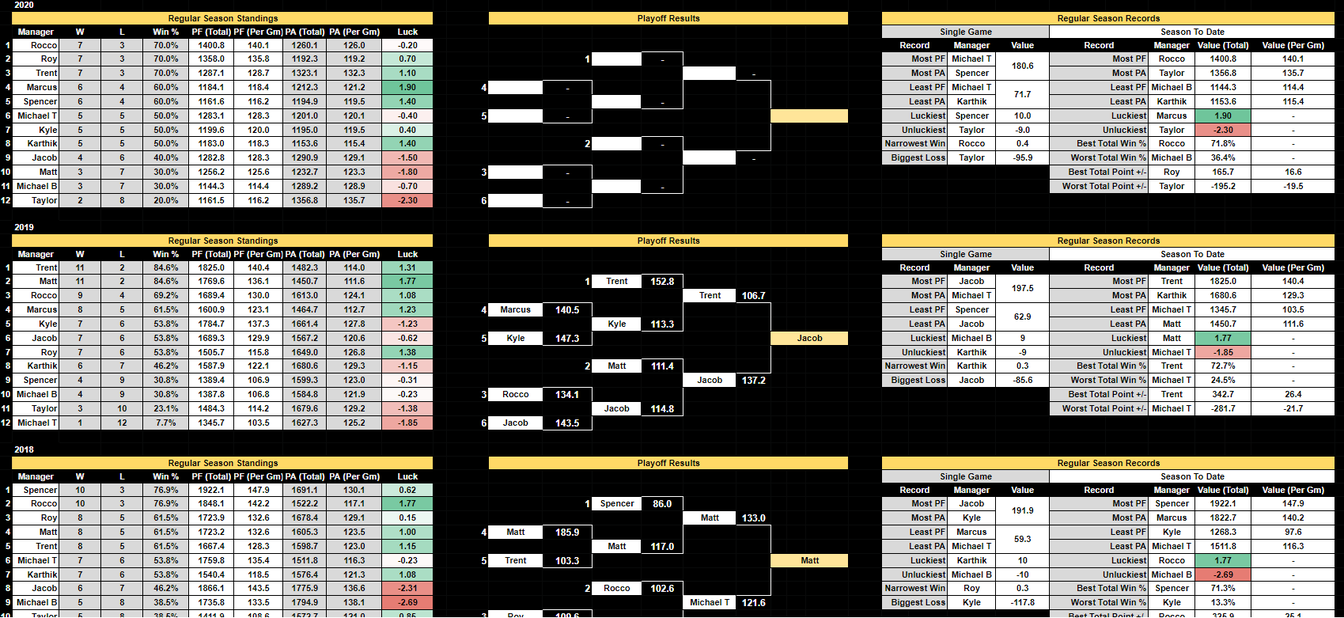 Beck: In his email, Kyle referred to this as a fantasy-football league that turned into a support group. Was there a turning point at which something that's a group hobby became a deeper part of your lives?