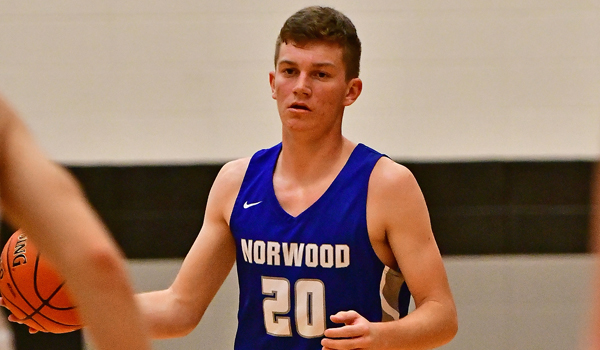 By Jordan Burton (For OzarksSportsZone.com)
Basketball season is underway in Missouri. Below are the Class 1 Boys Basketball Players to Watch along with a breakout player.
NOTE: MSHSAA won't be releasing new class and district assignments until Friday, Dec. 11. WE ARE USING LAST YEAR'S CLASSIFICATIONS for our watchlists. There will be SIGNIFICANT changes to classes when the new assignements come out, as Missouri is adding a sixth class of basketball this year.
• Garrett Davault, Norwood Junior
As a freshman he averaged 23.1 points. He followed that up by averaging 21.4 points as a sophomore, leading Norwood to a Class 1 – District 4 runner-up finish. We give the nickname of being a bucket to many players, but Davault is truly an elite scorer. More than 1,000 points through two years and he started the 2020-21 campaign by scoring 38 points against Sparta. He'll be lighting up a scorebook near you soon.
• Lane Dunlap & Chain Parrill, Golden City Seniors
This duo has been a major part of back-to-back district championships for Golden City. Dunlap averaged 18.6 points and 6.9 rebounds, while Parrill added 16.7 points and knocked down a team-high 78 3-point FG. Dunlap had 30-plus three times last year, including a career-high 48 against Verona. Parrill had a pair of 30-point games. They enter their senior year with nearly 2,400 points combined.
• Adrian Hartshorn, Fair Play Senior
A year ago Hartshorn was an All-Polk County League and All-District pick, averaging 17.9 points, 3.5 rebounds and 3.4 assists and leading Fair Play to a district title. He's clearly talented, but the addition of former SBU coach Darin Archer to the program will only make Hartshorn even more productive.
• Carter Lakey & Bailey McGill, Dadeville Senior & Junior
Lakey and McGill form one of the area's top scoring duos in Class 1. Last year, Lakey averaged 12.9 points, 3.4 assists and 1.6 steals. He's scored more than 1,500 points in his career. McGill averaged 13.2 points and 5.4 rebounds as sophomore. Both were All-Polk County League and All-District selections. Dadeville put together its first winning season since 2014 behind this duo.
• Senior Waylon Masters, Dora Senior
The 6-foot-4 senior showed his ability in last year's Class 1 Final Four, averaging 12 points and 7.5 rebounds and two Falcon wins. With Isaac Haney and the Luna Triplets gone, Masters will be the focal point of Dora Basketball. Expect a dominant year in the paint for Masters, who was an All-District selection as a junior.
• Trenton McCarthy, Halfway Senior
He's just 5-foot-11, but McCarthy has the ability to score it in flurries. He's lightning quick and can get to the rim at will, but his ability to shoot it forces defenses to close out. That combination led to McCarthy being named All-Polk County League and All-District, a position he's been in each of the last two seasons for Halfway.
• Max Schnelle, Lockwood Senior Senior
Last year's Southwest Conference POY posted one of the area's most diverse stat lines, averaging 16.7 points, 9.3 rebounds, 5.8 assists and 3.3 steals. A 6-foot-4 point guard, Schnelle has the unique skillset that allows him to play 1-5. From a pure skill standpoint, Schnelle is one of the most gifted in the Ozarks, regardless of class. He's a triple-double waiting to happen.
• Daniel Wagner, McAuley Catholic Senior
Wagner has an old-school feel to his game. The 6-foot-2 wing gets downhill to the rim and also has a developed mid-range game. He averaged 16.6 points as a junior, earning All-Ozark 7 and All-District honors in the process. He's also a presence defensively, leading McAuley in blocks.
• Tucker Ahlers, Humansville Sophomore
• Kris Allen & Corey Hillburn, Exeter Senior & Junior
• Austin Coonis & Luke Bushey, Dadeville Senior & Sophomore
• Blaine Garver, Lockwood Senior
• Mark Henderson, Climax Springs Junior
• Terry Lowery, Hurley Junior
• Jared Tidball, Jasper Senior
• Cooper Wilkin, Weaubleau Sophomore
Class 1 Breakout Player: Kane Cooper, Lockwood
To call Cooper a breakout player is almost unfair. As a freshman he averaged 11 points and 10 rebounds at Lockwood. As a sophomore at Springfield Central he earned All-Ozark Conference Honorable Mention honors. Now, the 6-foot-5 forward is back at Lockwood and joins what is a loaded roster. He'll instantly become one of the top rebounders in the Ozarks and form a formidable inside-out duo with Schnelle.