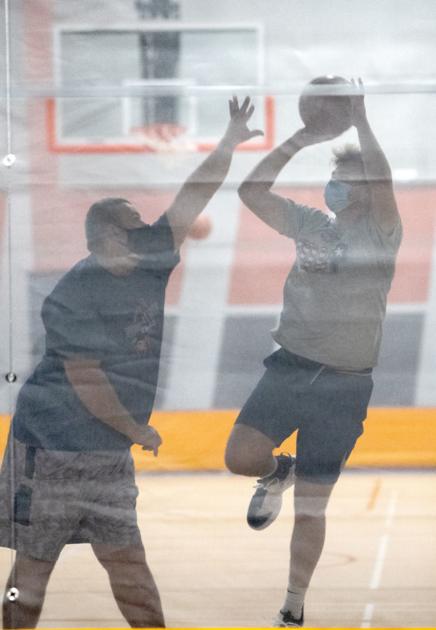 Zacheus Carr's experience probably echoes those of many Illinois high school athletes when it comes to wearing a protective face mask during the COVID-19 pandemic.
"The first couple times that we came out here with masks, I remember … it was pretty hard to breathe and just a weird new thing," the Mahomet-Seymour boys' basketball senior said. "But (I) definitely have adjusted, and now I bring a couple. Once one gets sweaty, I can switch out.
"I don't even notice it at this point. It's the new normal."
That will continue being the case for any high school basketball players who wish to compete this fall and winter, as the organization's Sports Medicine Advisory Committee is requiring all involved with games to wear a mask at all times.
Plenty of questions are still swirling about how the 2020-21 season will play out — or if it will, considering Gov. J.B. Pritzker is opposed to the planned Nov. 16 beginning of practice and Nov. 30 start of games.
The mask element, however, isn't up for debate.
And that's OK, according to local players and coaches.
"If we had to wear masks and have no fans to play basketball, we'd do that in a heartbeat," M-S boys' coach Ryan Bosch said. "We just want to compete and play."
The spectator element of the IHSA's rules is slightly more fluid, though it seems unlikely games will include fans because of the state's rule banning all gatherings of more than 50 people.
But there's no room for pushback regarding masks. The word "mask" (or its plural) appears 11 times in the IHSA basketball safety considerations, and the sentence "all individuals must wear masks" is as cut and dry as can be.
"Running up and down in masks would be the hardest part," St. Joseph-Ogden junior Andrew Beyers said. "We'll be fine (though). We've been practicing in masks."
SJ-O boys' basketball coach Kiel Duval initially was concerned about how his athletes would respond to a mask mandate he instituted at the outset of SJ-O's offseason workouts.
Turns out he had no reason to worry.
"The first day of practice I told our coaching staff, 'We may have to tell them to keep pulling up their masks because they're going to try to pull them down,'" Duval said. "But we didn't have to do it. They're just kind of rolling with it. They want to be out here so bad that the mask doesn't matter."
Not that the thought of a quick tug on the mask hasn't crossed players' minds.
"It can get really tough when you're out of breath. You have the urge to pull your mask down," Spartans senior Jackson Rydell said. "But we need to follow the rules and do what we can do in order to slow the spread of COVID, and we've each got to do our part. Hopefully we can get going (playing basketball) pretty soon."
On the "out of breath" front, the IHSA is requiring a media timeout during each quarter of a game in order for players to catch their breath. High school games are composed of four, eight-minute quarters.
The M-S and SJ-O athletes who spoke to The News-Gazette expressed support for the idea, though Beyers added that some timeouts could create a shift in game momentum.
The IHSA's mask rules also address what Carr mentioned: sweat soaking a player's mask. The guidelines encourage each player to bring multiple masks to a game for this reason.
"You've just got to find whatever mask you feel most comfortable in," M-S senior Eli Warren said. "I honesty expected it, and if we have to play in masks, then I'll play in masks. I just want to play either way."
That last comment is weighing on all players these days, especially when Pritzker and IHSA executive director Craig Anderson spent last week going back and forth through the media on their respective stances toward games in November.
"It's just hard going from playing to not playing," Beyers said.
"It's a roller coaster of emotions," Rydell added.
The uncertainty is frustrating for Duval and Bosch — and not merely from a preparation standpoint.
"What's hard for me is that the people that are making the huge decisions, they're … not working together," Duval said. "I feel like if everybody would work together, maybe we could come up with a set decision and kind of roll with that. … (The kids are) getting the wrath of those decisions because nobody wants to make that decision and take charge."
"The hardest thing to do, in my opinion, as a coach is to not have answers and to not have a clear sense of what you're doing or what you're working toward," Bosch added. "We talk to the kids all the time about being resilient and being able to adapt and handle whatever circumstances are thrown at them."
As much as these kids want to play, they're also attempting to find enjoyment in the lead-up to some sort of campaign.
"If there's no season, I don't think it's wasted time," Warren said, "because I'm having fun with my last season whether we get to play or not."
"This is a lot better than whenever we were all shut in at home," Carr added. "We're out here with our best friends just getting to enjoy each other's company. … We're still getting to have some fun and enjoy ourselves, getting to somewhat normal."