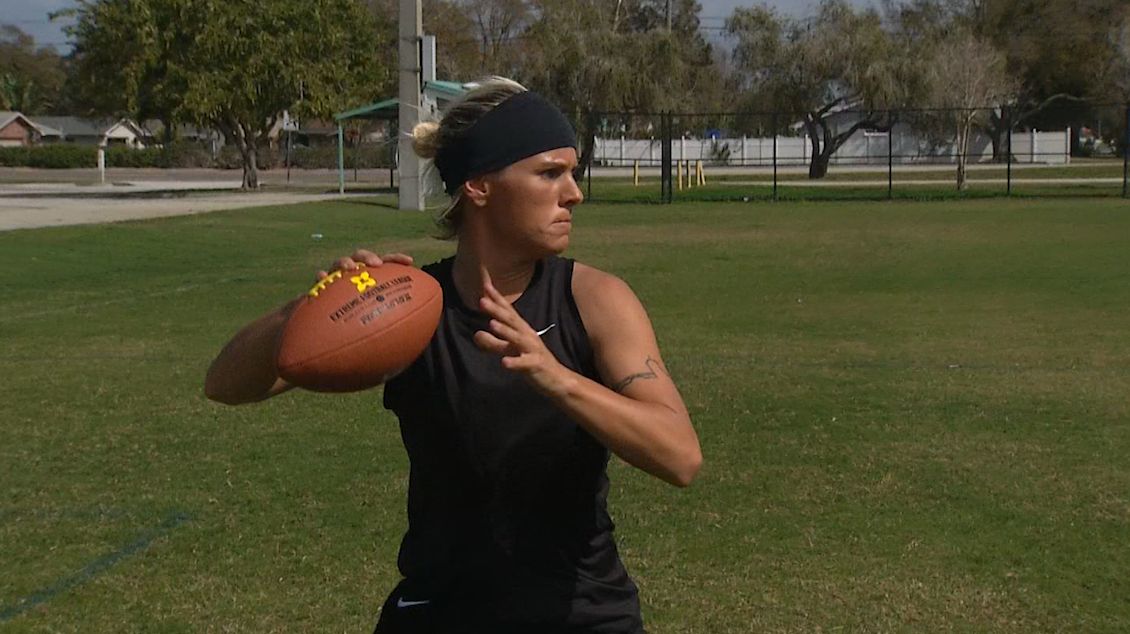 ST. PETERSBURG, FL – Ashley McCaughan is preparing for an opportunity: To be the starting quarterback for a pro football team.
"I've always been an athlete," said McCaughan. "In middle school I dabbled in almost every sport that girls could play."
Unfortunately, one of those sports wasn't football.
"In middle school, a coach asked if I could play football and I couldn't," McCaughan said.
McCaughan gravitated towards basketball in high school, and went on to play guard at Brooklyn College in New York. Last year, the 28-year-old saw a posting for tryouts for a professional women's football league
"I tried out as quarterback because it was a very similar role to the point guard position," said McCaughan, who tried out before the pandemic hit. "I made the team, so here I am."
McCaughan will play for the Kansas City Force, part of the Extreme Football League. It is dedicated to promoting women's football on a national scale with eight teams in eight cities. One of the league's key backers is its chairman: NFL legend Mike Ditka.
"It's the only major sports females don't play – football," said Dikta in an Extreme League promotional video. "These girls are tough. They have great goals too; they want to accomplish great things."
"Having Coach Ditka as a major endorsement brings credibility to our league, and we are honored to have him be a part of us," said McCaughan. "We want to honor his reputation by bringing a really great product on the field."
So Ashley is hard at work training with one of the best privates QB coaches in the Florida – Drew Phillips.
"Ashley has the determination to be good," said Phillips, who is the director of the Phillips QB Academy. "And, so, when I saw that in her I thought 'she's going to be going places' and I wanted to be a part of it."
Under Phillips, McCaughan has improved in all facets of the QB position.
"Ashley has added 15 yards to her throw," said Phillips.
But McCaughan has found something more important in Phillips – a new fan for a new league.
Everybody is going to have to be part of this league and help push it in the right direction, no matter what gender they are," said Phillips, who plans to have his younger male QBs watch McCaughan play.
Each new supporter means something to players like McCaughan. Of course, the most important group of fans she is hoping to reach is girls looking for an equal opportunity.
"There is no better time than now to inspire little girls to play football," said McCaughan. "I want them to look at this league and say 'I have a place to play.'"
The Extreme Football League debuts this summer.