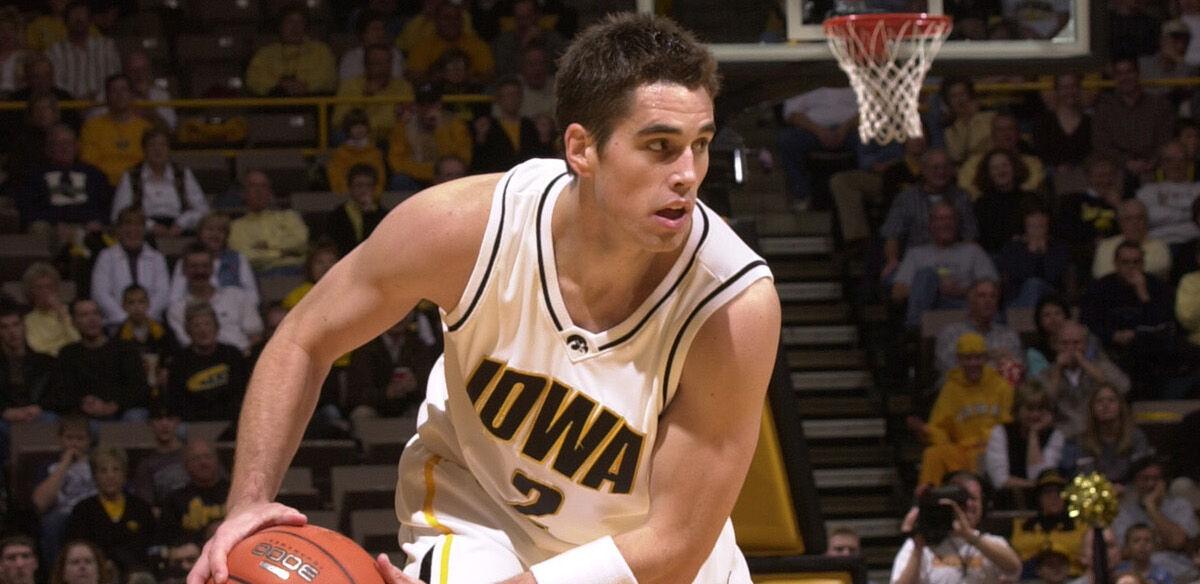 IOWA CITY, Iowa – This is Jeff Horner's career snapshot, one that intersects sports and life. He was a sophomore when Iowa's basketball team traveled to Bloomington, Ind., for a game with Indiana.
Coach Steve Alford had a short rotation that season, so playing significant minutes was not unexpected.
But the game went two overtimes. Horner played 49 of a possible 50 minutes, and scored the winning basket on a drive with 1.6 seconds remaining. After it was over, an exhausted Horner leaned on teammate Jack Brownlee as they walked off the court. A competitor who had given his all.
Fast forward to the fall of 2019, Kirksville, Mo. As Truman State's basketball team practiced, Coach Jeff Horner sat courtside and watched. He'd just made the 95-mile drive back from Columbia, Mo., where he had received another chemotherapy treatment. Horner had no hair. And because the type of chemotherapy doctors had prescribed was tough on his kidneys, they had pumped him full of water. He was carrying 30 extra pounds on his 6-foot 3-inch frame.
"Big and bald," Horner recalled.
But he was there, courtside at Pershing Arena, slumped in his seat but sending a message to his team. I made it here. Now it's your turn. Be a competitor. Give me your all. Now in his third season as the head coach at Truman State, Horner's current team is 12-1 and ranked sixth in the latest NCAA Division II poll. More importantly, he's cancer free. "I can't complain," Horner said.
He committed to Iowa after his freshman season at Mason City High School, where Jeff played for his dad and hall of fame coach, Bob. Horner played with passion for the Hawkeyes from 2002-03 to 2005-06, starting all four seasons and scoring 1,502 points while dishing a career-record 612 assists. It's a record that Jordan Bohannon is about to break. Horner also left as Iowa's career 3-point leader with 262. He's now second to Bohannon. After a professional career, mostly overseas, the 37-year-old Horner jumped into coaching and has dreams of becoming a Division I coach down the road. He and his wife, Lindsay, have a daughter, six, and a son, three.
Horner had surgery in late July 2019 after being diagnosed with testicular cancer. A scan also revealed that the cancer had spread to lymph nodes in the groin area.
Horner started chemotherapy sessions on Sept. 3 in Columbia. He had 20 sessions overall. He then started a series of scans every three months to make sure the cancer hadn't returned. In January, he got another clean bill of health. His scans will now take place every six months, starting in June.
The experience has changed Horner's perspective, both in life and in coaching. "I'm not taking anything for granted," he said. "You've been an athlete your whole life. You think you're invincible. Nothing's going to get me, that type of thing. It's also made me try not to worry about the small things. I'm a competitor. Sometimes there are small things that bug me. I try to let it go, and be done with it."
Now it's the small things he embraces, like taking his kids to school each morning and being home for dinner at night. He said he's altered his approach with his players, too. "I definitely think I've mellowed out a lot more," Horner said. "I still get into them and have that fiery competitive edge. I think our guys really feed off of that."
If anything, Jeff has become his father on the sidelines.
"One thing I've learned from my dad is to try and not get on guys for every little mistake they make," Jeff said. "As he got older, that probably got easier for him a little bit. Bad shot, give him another chance. Because you don't want your kids looking over their shoulder and making another mistake."
Horner's coaching style is a mix of every one he's worked with, but his dad has had the biggest influence on him.
"Whenever I have something going on, he's the first person I call," Jeff said. After playing professionally three seasons in Belgium and France, with a season with the Iowa Energy in the NBA G-League in between, Horner decided to follow in his father's footsteps. He spent the 2009-10 season as an assistant coach at Grand View in Des Moines. He left to become the head coach at Valley of West Des Moines for three seasons that included a runner-up finish at state in 2014.
Then Brian Jones added him to his staff at North Dakota. Four seasons later, Horner was hired at Truman State.
The Bulldogs were 14-15 his first season. Star player Brodric Thomas, now on the Houston Rockets' roster, missed the first eight games with a broken foot. The team's starting center also missed four games with a knee injury.
"We were fighting and battling injuries that first year," Horner said. "The kids kept playing hard. Last year, everything kind of came together."
Truman State finished 23-8 last season, even with Horner's health issues. The Bulldogs were the No. 2 seed in the NCAA Division II Tournament. Four hours into their bus ride to Indianapolis, Ind., for the tournament, it was postponed because of COVID-19. This season's team has a definite Iowa flavor. Nine of the 18 players on the roster are from Iowa. Four members of next season's incoming recruiting class are also from Iowa. The Bulldogs' leading scorer, junior forward Cade McKnight, is from Grinnell. Guard Masen Miller, from Regina High School in Iowa City, is the starting two guard and the leading candidate to win freshman of the year honors in the Great Lakes Valley Conference. Truman State's only loss was a 90-83 decision at Maryville in the seventh game of the season. Horner missed that game after testing positive for COVID-19.
"I got it right after Christmas," Horner said. "My mom (Bev) and dad ended up having it. I'm guessing that I probably got it from them. I was expecting to be really sick. But I was actually asymptomatic."
Horner was scheduled to receive the vaccine on Wednesday. Miller also missed the Maryville loss because he was in quarantine. Truman State won the rematch, 72-47. Three games this season have been postponed because of the pandemic.
"I feel bad for the kids," Horner said. "Last year we're the No. 2 seed and the NCAA Tournament gets canceled. Here we have two of the better teams, maybe, in program history, and they get this kind of stuff going on."
One thing Horner's professional playing career taught him was to not have one eye focused on the future.
"I was worrying about where I was going to be next year instead of focusing on that year," he said.
That said, he does have aspirations of being a Division I head coach some day.
"I think a lot of coaches say, "I don't want to do this," because they don't want to upset someone," Horner said. " But I do want to be a Division I coach some day. When that is, I don't know. When you start having kids of your own those things change, because you don't want to be moving around every year. And the guys who are here, we recruited then to play here for us. That always ends up being a tough part of things, because your team is like your second family."
Horner is quick to point out that his long-range plans don't reflect on his feelings for his current job.
"I'm really happy where I'm at," Horner said. "We've got a good group of kids who listen and work hard. So I couldn't ask for anything more."