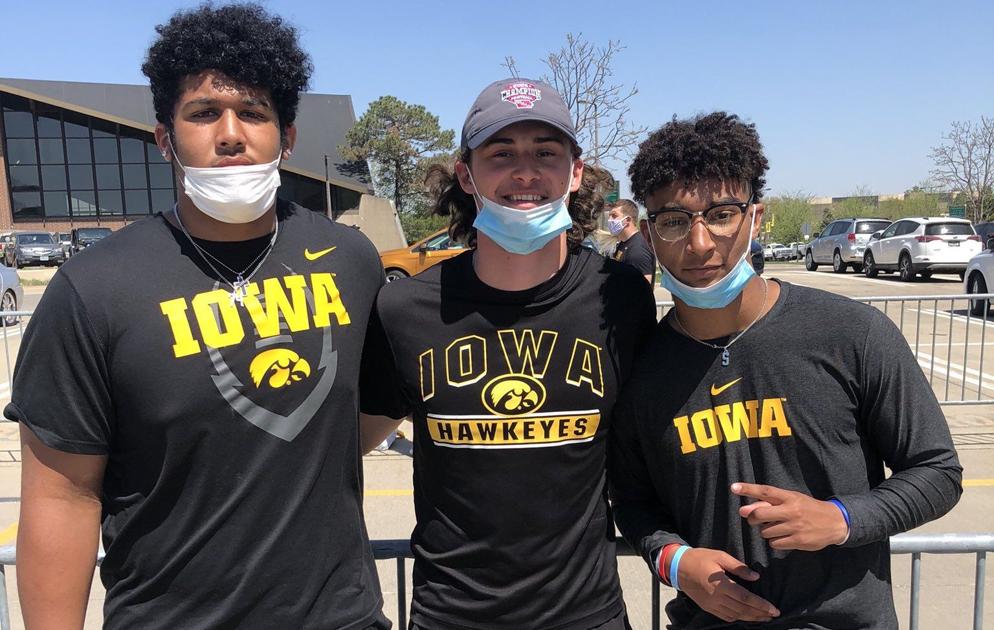 Xavier Nwankpa's star has risen nationally over time. The four-star Pleasant Hill (IA) Southeast Polk High safety hasn't forgotten where the ascent began, however.
He's being pulled in different directions as he works towards a final decision on his college football home. Such is life for one of the country's top recruits.
Rivals ranks him as the No. 84 overall player nationally in the 2022 Class, the No. 8 safety and the No. 1 recruit in Iowa. 247Sports sees him as the No. 13 player regardless of position, the No. 1 safety and No. 1 prospect in the state.
Nwankpa whittled down his list of 30 scholarship offers to a Top 7 last week. Arizona State, Clemson, Iowa, LSU, Notre Dame, Ohio State and Texas A&M made the cut.
"I'm looking for a place close to home but also far enough distance away so I feel in a different atmosphere. The culture, the people, and their DB development are important factors," Nwankpa told HN.
He visited Iowa for a fourth time on Saturday, when the Hawkeyes held an open practice at Kinnick Stadium. The recruiting dead period that began in March of '20 due to the COVID-19 pandemic prevented him from meeting face-to-face with coaches or receiving guided tours of facilities.
"It was nice seeing the team practice, especially the defense flying around. It was also cool spending time with a couple guys I grew up with that I haven't seen since spring ball started," Nwankpa said.
Iowa running back Gavin Williams played at Southeast Polk until transferring to West Des Moines Dowling Catholic for his senior season. Isaiah Wagner is a Hawkeye redshirt freshman walk-on receiver who prepped at Southeast Polk.
Nwankpa (6-2, 185) also shared the visit with Southeast Polk teammate Kadyn Proctor, the No. 1-ranked offensive tackle nationally in the '23 Class, according to 247Sports. He's reported scholarship offers from Alabama, Georgia, LSU, Notre Dame, Ohio State, Oklahoma, Texas, USC and plenty of others in addition to Iowa.
They help each other going through a difficult process.
"We talk about what we're looking for in a school and share little tips to see who's being real and trying to not waste your time," Nwankpa said.
The Southeast Polk teammates also spent time Saturday with Ankeny receiver Brody Brecht, a member of the Hawkeyes' '21 recruiting class. Their teams faced off in the Class 4A State Championship game in November with Ankeny coming out on top.
"Brody talks about staying home and the chance to play with guys I've been playing against or with since my freshman year. He also talks about a chance to come and compete early," Nwankpa said.
Nwankpa took a self-guided tour of Texas A&M this spring. With the dead period ending on June 1, he's locked in official visits to College Station(6/11), Ohio State (6/4) and Notre Dame (6/18). He unofficially visited the Irish back in '19.
"Taking these visits will help me see where home really is. I don't really know how I'll know when I've found that place, but I feel like when I see places I'll be able to feel where I am most comfortable," he said.
As a junior, Nwankpa earned first-team all-state honors. He recorded 41 tackles (35 solo), intercepted six passes and scored a touchdown. On offense, he racked up 792 all-purpose yards with 10 scores, averaging 13.0 yards per touch.